Maunders Music presents Unsigned Bands of the North
Featuring That's My Eye, Raised by Wolves, Break Line & Skinner's Lane
Please note this is an 18+ event
That's My Eye – are a 3 piece alternative rock band from Manchester England. They have a distinct grunge and alternative rock influence and mix both soft and heavy vocals/harmony. With very catchy melodies and hook lines 'That's My Eye' deliver a fast paced, high energy and entertaining set.
Raised by Wolves – Liverpool based Raised By Wolves have been building a name for themselves across the northwest for the past 2 years.
Melding soaring vocals with a grunge sneer they have been ensnaring the northwest with their hard hitting anthemic rock.
Their latest releases follow on from their self titled EP, displaying hard rock riffs "colliding with the rebellious vocals to create a fiery atmosphere." (AC Rock Reviews). Their latest double single 'what' shows they have no signs of slowing down, on or off stage, and provides the momentum of a thundering juggernaut ready to conquer the rock scene.
Break Line – are an indie rock three-piece from Manchester whose music is a blend of rock, pop and punk. The band is comprised of Shane Parkinson and Lewis Jacques doing guitar/vocals, with Dalton Walsh on drums.
Skinner's Lane – The three piece have been causing a storm in Merseyside with their charismatic garage rock style fused with elements of psychedelia, blues and even prog-rock. Hailing from totally different parts of the globe (California, Norway, England), it was the three's keen interest in riff driven music such as Black Keys, Royal Blood and Franz Ferdinand that brought the group together.
"With the riffs combined with the frontman Zak's energy, the place filled fast. Through the Canadian accent and the American humour, Zak and his band definitely set the bar high for acts to follow" – Purple Revolver.
You May Also Be Interested In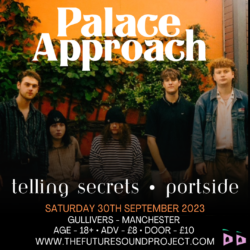 w/ Telling Secrets + Portside
Buy tickets