Minotaur Promotions presents Tormenta
With guests Adam's Garden, Redshift & Clashmute
Please note this is an 18+ event
Torementa was spawned in December 2017, taking influences from Emmure, Dead By April, Linkin Park and Ill Nino. Best described as 'Melodic, Electronic Metalcore' but strive to have a sound like no other.
They pride themselves on their DIY nature, all their original material and videos have been self recorded and produced, of which their 3-track demo EP 'Chapter 1: The Storm Is Coming' became a resounding success, achieving over 170,000 streams since April 2018. It also gained the attention from record labels with the band receiving 4 record offers to date including Sliptrick Records and WormHole Death Records.
The band had an intense touring schedule in 2018 and as a result, have built up an avid, strong fanbase, who refer to themselves as 'Stormriders'. In September 2018, a crowdfunding campaign was launched to raise funds for the recording, mixing and mastering of a full-length album entitled 'Chapter 2: The Storm Is here. This campaign reached target in just 6 days. The first single from this highly anticipated album 'Tattooed Scars' is to be released 26/01/2019, with the 11-track album following at the end of February.
You May Also Be Interested In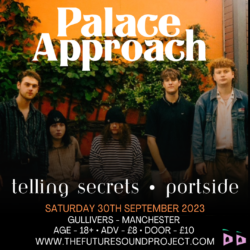 w/ Telling Secrets + Portside
Buy tickets