Mishka Shubaly
Please note this is an 18+ event
After receiving an expensive MFA from Columbia University, Mishka Shubaly promptly quit writing to play music. He lived out of a Toyota minivan for a year, touring nonstop, and has shared the stage with artists like The Strokes, The Yeah Yeah Yeahs and The Decemberists among others. A narrative published in NYPress about his romance with an opiate marked his return to writing.
His three Kindle Singles for Amazon have all been bestsellers. He writes true stories about drink, drugs, disasters, desire, deception and their aftermath. His work has been praised for its grit, humor, fearlessness and heart. 'The Long Run,' his mini-memoir detailing his transformation from alcoholic drug abuser to sober ultrarunner is one of the best-selling Kindle Singles to date.
Mishka Shubaly lives in Brooklyn where he writes music and plays bass for Freshkills. He is at work on a new solo record of his original songs and a full-length memoir. He does not own a dog but he thinks about them often.
You May Also Be Interested In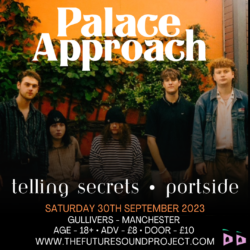 w/ Telling Secrets + Portside
Buy tickets