Mission Mars presents Woman's Hour
With guests TALLSAINT
Please note this is an 18+ event
Today, Kendal band Woman's Hour are releasing 'Luke', the second single from their upcoming sophomore record 'Ephyra' which is being released digitally and on limited edition vinyl on 15 February via Practise Music [pre-order].
Due to deteriorating mental health, Woman's Hour decided to break-up shortly before the completion of 'Ephyra'. The break-up represented so many different things: relief, sadness, grief. But ultimately, a year after separating they felt a collective drive and desire to finish the album and draw a line in the sand. Fiona describes it as "a kind of rebirthing. An opportunity to reflect on what happened and embrace what we achieved."
'Luke' was inspired by Wordsworth's poem Michael and specifically about losing a son to the temptations of a corrupt world. The band wrote the song between Kendal, London and a writing trip to the easternmost tip of Spain. Lyrically the song juxtaposes a pastoral landscape against a extraterrestrial, existential dreamscape in search of a place to call home. "Luke, do you notice that we're turning on an axis in space, orbiting the sun and it's bigger than us. We're only made of atoms, can we collide in love, I only want to see you and be near you." Sonically 'Luke' is sparse, but it is built with warm textures; augmented piano chords, gentle percussion, lightly played arpeggiated guitar lines and a pulsing synth bass sit beneath a beautiful, meandering vocal line.
Having recently announced a London headline show at The Dome on 22 March the band have now announced the rest of their UK tour in support of 'Ephyra' which begins in their hometown of Kendal on 11 March.
You May Also Be Interested In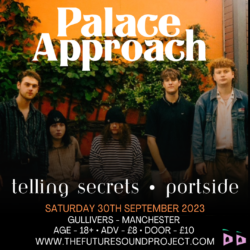 w/ Telling Secrets + Portside
Buy tickets