MURRAY A. LIGHTBURN
With guests
Please note this is an 18+ event
We're delighted to be presenting a rare solo show by The Dears' Murray A. Lightburn.
Murray A. Lightburn is a composer, musician, performer and music producer. He's best known as the lead singer and principal songwriter of internationally known Montreal chamber rock band, The Dears. Formed in 1995, their orchestral, dark pop sound and dramatic live shows cemented The Dears at the foundation of the then-emerging Canadian indie rock renaissance.
In 2013, M.A.L. independently released ?Mass:Light,? his first ever solo record. This was a concept album that CBC Music described as 'dark and fantastic, ?Mass:Light? shines a spotlight on Lightburn's genre bending capabilities through assertive songwriting'. The limited edition vinyl sold out almost immediately.
The Dears then released their two-volume epic ?Times Infinity? in 2015 and 2017. The project kept M.A.L. busy touring throughout the world, while giving him space to contemplate his latest project, ?Hear Me Out, and perform several shows on his own.
Hear Me Out? is M.A.L.'s second full length solo work. While musically distinct, ?Hear Me Out? will build on his association with The Dears to connect with a new fanbase.
'During a personally turbulent spring of 2016, I responded to an unstoppable flow of creativity. I wrote 15 songs that I knew would be my second solo album,' M.A.L. recalls, 'musically inspired by 60s girl-groups, Motown records and soulful romantic crooners. Vulnerable black men singing sensitive love songs, like Nat King Cole or Marvin Gaye, isn't something I see a lot of these days. In Canada, there are almost zero. Perhaps I can fill that void.'
Of his solo performance, XS Noise wrote: 'Murray Lightburn proved he could take himself in any musical direction he wishes without dividing or disappointing fans.'
Price: £13 adv
Info/tickets: https://www.heymanchester.com/murray-a-lightburn
You May Also Be Interested In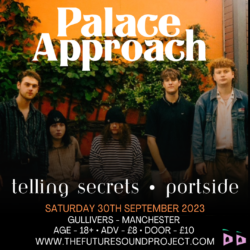 w/ Telling Secrets + Portside
Buy tickets