NANA WHITE PEPPER
With guests DONNA & THE CADILLACS & DYING HABIT
Please note this is an 18+ event
DUSTY POP ENTERTAINMENT PRESENTS
** Nana White Pepper **
+
Donna & The Cadillacs
Dying Habit
______________________________
Nana White Pepper is an explosive alternative rock band from Blackpool, Lancashire.
Bursting onto the UK alt-rock scene in 2016, the band has quickly ascended to something distinctly unique, impressing audiences with an energetic stage show, impassioned performances and catchy riffs that worm their way into your head and won't leave for weeks.
After blowing away a stunned crowd at Manchester Academy 3 this autumn, Nana White Pepper shows no signs of stopping. They're currently in the studio recording their next single, ready to unleash it onto a wholly unprepared world.
Noisy. Notorious. Nana White Pepper.
"Wherever this band play they are sure to pack a punch. With driving bass riffs, and powerful, often haunting vocals, NWP sit on the rock / punk edge of music alongside acts such as Royal Blood and Queens of the Stone Age." – Kettle
"Equally ferocious and loud" – Jack Rocks
______________________________
Donna & The Cadillacs
Guitars, we've got them, both 6 string and of the bass variety. We pair the above with drums to come up with a scintillating sound to captivate your mind!
______________________________
Dying Habit
Dying Habit are an alternative rock band with original tunes. Consisting of Nath Jones as the vocalist, Alan Hart on guitar, Aled Hughes on bass and Mark Jones on drums. Their sound is big and the drums are fierce. There new album As I fade back into the wilderness is an uplifting set of songs with great melodies and plenty of interesting time signatures.
______________________________
DOORS 7.30PM | £7ADV | DUSTYPOP.COM
You May Also Be Interested In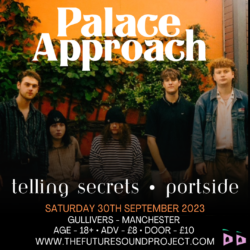 w/ Telling Secrets + Portside
Buy tickets