No Matter #3
Featuring Alice Tarbuck, Nat Raha, Tai Shani & Dina Gordon
Please note this is an 18+ event
Please join us for NO MATTER #3 ft. Alice Tarbuck, Nat Raha & live performance of work by Tai Shani, performed by Dina Gordon.
Alice Tarbuck is an academic and writer based in Edinburgh. Her pamphlet, Grid, is available from Sad Press. She is 1/12th of 12, an Edinburgh poetry collective.
Nat Raha is a poet and trans / queer activist, living in Edinburgh, Scotland. She is the author of numerous pamphlets and three collections of poetry: of sirens / body & faultlines (Boiler House Press, forthcoming), countersonnets (Contraband Books, 2013), and Octet (Veer Books, 2010). She's performed and published her work internationally. Nat is currently completing a PhD in queer Marxism and contemporary poetry at the University of Sussex. In 2017, her essay 'Transfeminine Brokenness, Radical Transfeminism' appeared in the South Atlantic Quarterly, and she is the co-editor of Radical Transfeminism zine.
Tai Shani is a multidisciplinary artist whose practice revolves around experimental narrative texts. Shani has presented her work extensively in the UK and abroad. Recent exhibitions and commissions include Glasgow International (2018); Wysing Arts Centre (2017); Tensta Konsthall, Stockholm (2016); RADAR commission, Loughborough University, (2016), Serpentine Galleries (2016). Shani has a current major solo exhibition, Semiramis, at The Tetley in Leeds until October 14th.
Dina Gordon is an actor, theatre maker and writer. She was born in the The Soviet Union and grew up in Cuba and Belarus before settling in Sweden. Dina has a background in classical ballet and contemporary dance from the Royal Swedish Ballet School and dramatic art from East 15 Acting School in London. She co-founded the performance company all good artists are dead. In 2018, the company toured 'JOY a post coitus concert', written and performed by Dina, at places inc. Bloomsbury Festival, VAULT Festival, Prague Fringe Festival, RADA Festival and Norway Fringe Festival. Dina is currently working on her third piece for the company, planned to premiere next year.
Free entry.
We're moving No Matter across the road to Gullivers for one night only. We're really sorry that this event is therefore limited in access by a full staircase.
You May Also Be Interested In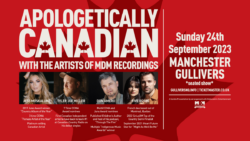 w/ Jess Moskaluke, Tyler Joe Miller, Don Amero, Five Roses
Buy tickets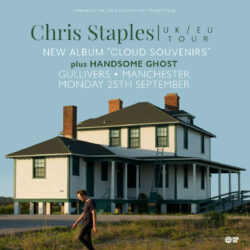 w/ Handsome Ghost
Buy tickets