Northern Vegan Festival
Please note this is an 18+ event
After a successful event on October 17, which over 3500 people came to, the Festival returns on April 23rd 2016 for a bigger event with more space
AT GULLIVERS – BRING YOUR CAT FOR FREE VEGAN CAT FOOD TASTING 12-6PM
VEGAN MUSICIANS 7-1AM
The Festival will run from 10am until 6pm at each venue with the exception of the Thirsty Scholar where it will run from noon until 3am.            
The festival is fully volunteer run and all proceeds will go to animal welfare charities, as will the proceeds from our partner festival, The Great Yorkshire Vegan Festival held on 18th June 2016 at Leeds Town Hall, Leeds City centre.  
www.yorkshireveganfestival.com

Sarah de Warren started writing at the age of 13, but her passion really developed when she moved schools at 14, where her songwriting became a powerful outlet for her feelings. She'd spend hours at the piano, weaving emotive melodies around honest, moving lyrics.
By the age of 18, de Warren had already gained a wealth of experience after performing live around her hometown Weymouth, and so moved to Manchester to begin her music career. Immersing herself in the vibrant music scene of the North West, de Warren began gigging several times a week and created a tangible buzz around her music.
For de Warren, working with producers is a key element to her music. Her work draws on electronic themes – comparable to the sounds of BANKS, Delilah, and Likke Li – resulting in a soulful, alt-pop vibe. Whether recorded or live, de Warren's music is transcending with an abundance of personality which connects with the audience.
A recent collaboration with Scandinavian producer För Alltid has caught the attention of major music blogs such as Mr Suicide Sheep and Discobelle and is set for a label release on The EDM Network. The song has just broken 150,000 streams.
Having supported the likes of Andy Jordan, Far East Movement and Imperial Leisure, de Warren is set to break the scene with her own hard work and incredible sound.
www.soundcloud.com/sarah-de-warren
www.facebook.com/sarahdewarrenmusic
www.twitter.com/sarahdewarre
I am a 24 year old singer-songwriter from Texas. I graduated from Harvard last year and Oxford this year for a Masters in African Studies. In addition to being my favorite form of procrastination during university, writing songs has been my way of making sense of my experiences, travels, and the people I meet along the way.
I have taught and worked as a journalist in Honduras, Brazil, Nicaragua, Namibia, Mozambique, and Kenya. I have also written about humanitarian issues in these countries for the BBC, the Harvard Crimson, Global Post, the Queens Courier, and the Houston Chronicle.
My music has been my way of bridging the cultural divide of the places I travel to. I even have a bossa nova song in Portuguese (featuring MIA's drummer) from when I was living in Rio de Janeiro.
I've played on BBC Introducing at Oxford four times, London Live TV, The Troubadour, Inspiral, and Whiskey a Go Go, The Bluebird Cafe, The Bitter End, as a featured artist at Harvard ARTS FIRST three years in a row, and on Houston CBS TV. I have also played shows in Cape Verde, Mozambique, Namibia, Portugal, and France.
As I experience new things and as my music evolves, I love trying to capture moments and feelings through my songs, while hopefully sharing with others one of my greatest passions and encouraging them to explore beyond their current horizons. My music can be described as indie acoustic pop with the occasional reggae, country,and ukulele cameo.
When I am not singing, I am either teaching yoga, running marathons, conducting interviews for my youtube channel about underreported news in developing countries called 'On the Map, Off the Radar', or roasting brussel sprouts.
meredithbakermusic.com
youtube.com/mereditz101
instagram.com/meredithbaker07
facebook.com/meredithbaker07
9pm – 10pm: Birds and the Beasts
Imagine a parallel universe where David Attenborough left the BBC in 1969, moved to California, grew his hair and joined a band. Stories of survival, betrayal and devotion from the animal kingdom inspire this new band. With three part harmonies, emotive duets and a unique musical vibe, Birds and the Beasts are evolving fast. Catch them while you can and then release them back into the wild.
http://leobrazil.bandcamp.com/album/born-to-bow-down-2
https://www.youtube.com/watch?v=_T3iuRSMeCs
https://www.youtube.com/watch?v=r2Ip8Vc2SYM
8pm – 9pm: Gareth Evans
Gareth has come a long way since picking up a guitar at 15. Since then he has  evolved into a diverse and truly original singer/songwriter not to mention  producer of his own works, Producing an array various styles of music but  always retaining his Pop Indie routes.
Over the years he has reached finals of competitions, gained contracts, featured on compilation albums, sold albums in Japan, and has even appeared on TV as an actor which he runs along side his Music career.
Gareth is much more than a solo artist and has been involved in several bands over years within various positions. Although he has a love for guitar and piano he relishes being a front man where there is freedom to do what he wants, or as he puts it "Lose myself and not have to think". With a true presence on stage it is hard to not to appreciated, only his subtle creative side but also Gareths ability to perform and captivate any audience in any type of venue. In 2015 Gareth signed to gamma records based in the USA.
Its been a hard slog, a long journey, but now Recording his 5th album inspired by a few heart brakes, it is shaping up to be his finest and most soulful work yet.
www.garethevansmusic.com
facebook.com/garethevansmusic
https://soundcloud.com/garethevansmusic
Please note that all main venues and rooms are fully accessible to people in wheelchairs via lifts, but at the Gullivers venue, people in wheelchairs will need to ask staff to contact Veggie Pets upstairs where they will bring some vegan cat food samples down as this venue is not wheelchair accessible.
Venue 4 is the upstairs room of Gullivers at 109, Oldham Street, M4 1LW, where there will be vegan cat food tasting with Veggie Pets (please note that the samples are to take away only, cats will not be allowed inside the venue due to the trauma of travel).
You May Also Be Interested In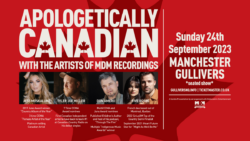 w/ Jess Moskaluke, Tyler Joe Miller, Don Amero, Five Roses
Buy tickets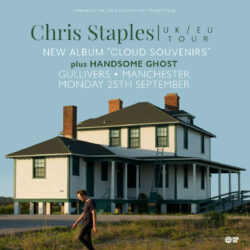 w/ Handsome Ghost
Buy tickets