OF EMPIRES
With guests ARCADES & DEAD NATIVES
Please note this is an 18+ event
Glasswerk presents
Of Empires
with special guests
Arcades & Dead Natives
Following a successful run of gigs and festivals in 2017 earning plaudits for their hypnotic live shows at Isle of Wight and Reading Festival, Brighton four piece 'Of Empires' are set to release double A-side singles, 'Waist Up in Gold' / 'Gunslingers' in 2018.
'Waist Up in Gold' leads with a middle-eastern psych hook, bolstered with a thunderous surf-rock pulse, themed by singer Jack Fletcher's spiritual trip into a hyper-real wonderland.
With 'Gunslingers', the subject is war and the media coverage that defines them. It explores the chaos of foreign intervention and the gung-ho approach akin to a spaghetti western. On a sonic level, the band anchors its garage rock sound and psych-pop hooks with raw, live and low-fi grit.
'Waist Up in Gold' / 'Gunslingers' will be available via Idle Times Records February 2018.
You May Also Be Interested In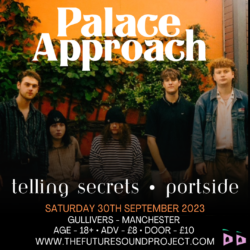 w/ Telling Secrets + Portside
Buy tickets