dry cough presents Ommadon, Bismuth, Wode, + Ritual Object
Please note this is an 18+ event
Dry Cough Records proudly presents:
Ommadon
"Ommadon is pure and primitive heaviness. Ommadon is the outcast, the fallen angel, the darkness. Ommadon is the darkness which we are told to fear, to avert our eyes and cower from, to candy coat the suffering, the decay, and the death which give life meaning. Ommadon is the intolerable agony, the paralysing misery, and the stifling alienation, which make us who we are.
Ommadon does not submit to the simplification of the horror and the beauty of existence into a world of positivity and negativity where we feel nothing but simulations of what happiness could be like or terror that sadness may disrupt our mass stupor. Ommadon embraces the dark, not as a manufactured rebellion or infantile inversion of stories of good and evil to which we must submit ourselves. Ommadon allows us to reinvent ourselves by destroying what we believe we hold dear but which only slows our steps. Ommadon is for those who know that in fearing death, one fears life, sleepwalking through life, waiting to die.
Ommadon is for those who know that only in facing and loving death can you live freely. Ommadon is the world and the world is Ommadon."
https://ommadon.bandcamp.com/
https://www.facebook.com/ommadondoom/
Bismuth
"Bismuth are a two piece band consisting of bass and drums. Bismuth take elements of drone, of doom, of prog, of metal and of ambient music to create something that is heavier than anything that I have heard or felt in quite some time. Unavailing makes me feel like the first time I heard the likes of Sunn O))) and Khanate, unsettled and elated in equal measure, it leaves me with an overwhelming sense of melancholy. I don't need an intervention, I am okay. For fans of "The Riff", you needn't worry, there are riffs, riffs that could freeze the earths core and destroy mankind as we know it." – Echoes And Dust
https://bismuthslow.bandcamp.com/
https://www.facebook.com/bismuthslow/
Wode
"Wode is a band who invoke darker spirits, insane prophecies and a sense of sheer peril that few of their peers can match. What makes Wode truly special though is their ability to craft soundscapes worthy of Emperor. In a world where the true power of black metal is often diluted, Wode come out powerful and bold, slaughtering the innocent with every crashing chord.
Wode are magical because they fill their own void and have found a unique and exciting place within the black metal canon. They have conjured up something greater than themselves…. and are only just figuring out how to harness it." – Metal Injection
https://wode.bandcamp.com/
https://www.facebook.com/Wodecult/
You May Also Be Interested In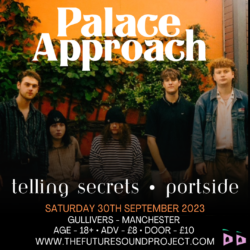 w/ Telling Secrets + Portside
Buy tickets