One Inch Badge Presents Behind the Shadow Drops (Taka from Mono)
Please note this is an 18+ event
Behind the Shadow Drops is the new solo project from Takaakira 'Taka' Goto; guitarist and composer of Tokyo, Japan-based Instrumental musical group MONO.
Formed in 2016, the project features Taka's 1st attempt in his career combining elements of Ambient, Trip Hop and other minimal musical elements, creating a Soundtrack-like dark musical world to the listeners.
The album features drums, percussion and programming by John McEntire of Tortoise and The Sea And The Cake who also mixes the album, as well as Los Angeles' Rock Cellist, Helen Money.
The debut full-length album is scheduled for worldwide release on September 22, 2017.
You May Also Be Interested In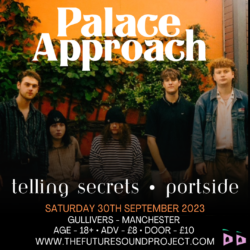 w/ Telling Secrets + Portside
Buy tickets