Tapestry Promotions present Onelinedrawing (Jonah Matranga)
Please note this is an 18+ Event
Jonah Matranga is essentially unique. His music is somewhere in between Nick Drake, Cheap Trick and Sinead O'Connor… but not really. Over the last 15 years, he's fronted rock bands (Far, Gratitude, New End Original) and made more solo-ish albums as onelinedrawing and simply under his name. He's made records with budgets ranging from $300 to $300,000.
For his latest album, 'You're All Those Things And Then You're None', Jonah first released solo acoustic versions of the songs, then put those basic tracks up for people to add their own ideas. It's exciting in concept and execution — and surprisingly cohesive. On one track, 'Happy-Hee', upwards of 30 singers
(including Kimya Dawson) ended up being part of a fittingly tender, odd collage.The album ranges from rocking and strident ('This Is Who I'm Gonna Be', 'Hold On') to poppy and idiosyncratic ('Sweet Life' and 'I Just Died In The Air', the latter of which is a synth-fueled, hooky, lyrical pastiche of countless iconic 80s tunes) to sparse and touching ('You Belong To Me', 'Secret World'). Listen here: http://goo.gl/HhcU4
Jonah also just released a crowd-funded (and created) Covers album entitled Voices & Dedication, featuring his unique take on Bruce Springsteen, Tom Waits, Tori Amos, Mazzy Star, Alkaline Trio and 11 others.
Listen here: http://goo.gl/hBtWl
Jonah has worked with, toured with and influenced artists ranging from The Weakerthans to Frank Turner to Sepultura. He's recently turned up on hip-hop records from Fort Minor and Lupe Fiasco, as well as being featured on releases by Thursday, Deftones and many more.
Jonah has played as many house shows as he has huge festivals, and he brings the same thing regardless of where he's playing — ambitious songwriting, wit, honesty and an interest in making something unique every time. His new album is yet another example of this.
There's info about the new album and lots more at http://jonahmatranga.com
You May Also Be Interested In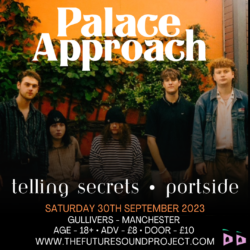 w/ Telling Secrets + Portside
Buy tickets