OpenMind: Ushi's 30th Birthday Showcase
£5 ADV/£12.50 ADV including a copy of Litany of Varied Experiences (collect at event)
Please note this is an 18+ event
So what's Ushi been up to since he stopped promoting monthly and became a chef? Haven't seen much of him but he seems to shitpost a lot and doesn't update 
www.ushikucrisafulli.com
 as far as often as he should.
Well he's been working an antiquity, spirituality and mythologically inspired EP The 8th Circle, a wrestling themed musical provisionally called "Take A Stand", a hip hop theatre/puppetry collaboration retelling of George and the Dragon with Anzir Boodoo (also featuring the classical compositions of Kenzie Appell) and has gone and got a new book about overcoming the most difficult year of his life published by Local Gems Poetry Press titled Litany Of Varied Experiences.
So for his 30th birthday he will share snippets from all of these projects while also formally launching Litany Of Varied Experiences.
There'll also be the following guest performances:
Camikaze and Cee Rellim bringing positive bars with a touch of da roads and deep concepts.
Halifax's resident Punk Poet Keiron Higgins and author of The Punk With A Northern Soul will be waxing lyrical with some spoken word as only he can.
ULC a tsunami of brilliance from an aquatic visionary springing life into music with untapped potential, and he don't give a dam if you rate him cos he rates himself – as he well should. His puns are good, but his bars are better with a penchant for catchy melodies and genius samples. ULC, but it's also important to listen.
Finally, from London Town is our headliner and hip hop heroine Wondr Womn aka Kid Wondr whose breathtaking bars and social entrepreneurship with The RecordShop make her a phenomena.
She'll also be bringing along singer, songwriter & producer ArA Harmonic whose sound has an eclectic influence that sees her fuse her personal lyricism with a melodic layering of harmonies, which she delivers in an impassioned live performance using her loop pedal.
Opening for artists like Lee 'Scratch' Perry and Dub Pistol, ArA has performed at many notable venues and festivals.
So please come along, make merry, and buy the birthday boy a pint!
You May Also Be Interested In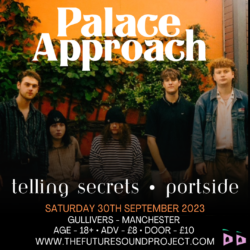 w/ Telling Secrets + Portside
Buy tickets