pen:chant feat. harry baker, julie e gordon and norris & parker tickets
Please note this is an 18+ event
pen:chant feat. harry baker, julie e gordon and norris & parker on thu 14th july 2016
Pen (pɛn) n. (tr) to write or compose. Chant (tʃɑːnt) vb. to sing or recite. Pen·chant (pĕn′chənt) n. A definite liking; a strong inclination.
Touring fringe festivals, local pubs and theatres, we meet amazing artists who write things (pen), say or sing them out loud (chant) and inspire massive art love (penchant). Then we bring them to you – spoken word, live music, comedy, cabaret and performance from the very best local, national and international acts – in the hope you'll love them as much as we do.
This month, we host a triple threat of spoken word, comedy and musical talent!
Fresh from international touring, spoken word megastar and World Poetry Slam Champion Harry Baker will be share some of the words that have earned him 'Best Spoken Word show' of the Edinburgh Fringe Festival 2015, and attracted millions of online views for his TED talk.
'Seriously – The greatest thing I have ever seen.'
Scott Mills Show, BBC Radio 1
Shackled together by a shared birthday, a shared flat and a shared infatuation with Kate Bush, Edinburgh Fringe sell outs, Katie Norris and Sinead Parker perform a series of wild, dark and ridiculous sketches, characters and songs.
'Surreal, fun and frankly pretty ridiculous' **** Whatsonstage
Voted the most promising vocalist by BBC 6 Radio Music's Gilles Peterson, Singer-Songwriter Julie E Gordon has performed with and supported acts such as The Happy Mondays, Womack & Womack and The Charlatans.
'The best thing that's happened to Manchester since the Hacienda' Richard Serling, JazzFM
Please note, we are trialling a new ticket pricing system for this event – our lowest rate £5 (skinted) is for all usual concessions but includes anyone who considers themselves on a low income, the top rate £11 (minted) is for anyone that feels pretty plush right now and would like to support those who aren't. And the one in the middle £8 (undinted) is for anyone who feels like they're earning an average sort of living. We leave it up to your honesty and your generosity to decide which rate to pay!
Limited open mic spots available, to any type of performer, contact info@penchant.org.uk for a slot, or take your chances on the night.
www.penchant.org.uk FB:penchantnight TW:@penchatnight IG:@penchantpresents
You May Also Be Interested In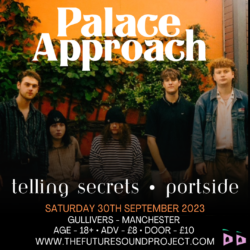 w/ Telling Secrets + Portside
Buy tickets