THE CHESTERFIELDS, Karen and Charlie Big Time
Please note this is an 18+ event
PENNYBLACK MUSIC
PRESENTS
A POST VALENTINES' NIGHT OF INDIE-POP
Featuring:-
THE CHESTERF!ELDS
Back in the live arena after a break of over 20 years, The Chesterf!elds were, despite hailing from Yeovil, one of the main players in the vibrant indie-pop scene that developed in Bristol in the mid 1980's.
In a similar fashion to The Go-Betweens, the band was formed and centred around two songwriters, Simon Barber and Dave Goldworthy, and were snapped up by Bristol label, Subway Records, for a string of catchy singles and an excellent debut album, Kettle, that was released in 1987.
For ace follow-up album, Crocodile Tears, and in keeping with the DIY ethic of the time, the band set up, their own Household Records label before initially bowing out with farewell single, "Fool Is The Man" in 1989.
The band briefly reformed having been lured back by the Japanese Yen for a tour of Japan and a new album, Flood,on Vinyl Japan in 1995 before calling time once more.
Sadly, Dave Goldworthy died in a car accident in 2004, but Simon has expanded his current band, Design, to include former Loft guitarist Andy Strickland to create a new Chesterf!elds line-up that also includes Helen Strickland and Rob Parry.
Having already starred at the New York Popfest and 100 Club in London in 2016, this will be the band's first Manchester show in over 2 decades and promises to be an absolute treat.
KAREN
Davey Woodward just has to write and perform songs. It's in his blood and has been since he first formed the short-lived Hybrids in the late 1970's.
Since then he has been best known as the singer/songwriter/guitarist of Eighties indie-pop sensations The Brilliant Corners, who made a triumphant 1 year return to play 10 gigs back in 2013/2014 in support of the excellent Cherry Red compilation Heart On Your Sleeve.
Woodward also fronted cult group, The Experimental Pop Band for over 15 years and despite releasing some of his very best songs, they never quite achieved the success they deserved.
After The Brilliant Corners re-union tour finished, Woodward formed Karen alongside former Brilliant Corners guitarist Phil Elvins, former Beatnik Filmstar Tom Adams on drums and former Heads bassist Hugo Morgan. A kind of veteran Bristol supergroup but very much now. This gig will be a rare foray out of Bristol and due to circumstances beyond the band's control, Karen will be performing as a duo of Woodward and Adams. Expect subtle twists on Karen songs such as "Estuary", "Broken Stars" and "Ocean" and even the odd Brilliant Corners track as well in what promises to be a special set.
CHARLIE BIG TIME
Bolton is hardly a hotbed of music. I should know I spent my school days there in the 1980's. As such, I was somewhat surprised that after hearing a couple of wonderful EPs ("Sale or Return" and "Dishevelled Revellers") by Charlie Big Time, I found out that they are a Bolton band. Best described as the missing link between The Smiths and The Trash Can Sinatras with a dash of Paul Heaton's lyrical wit, the band have been knocking around for the best part of a decade with releases on a number of indie-pop labels such as Jigsaw, Matinée and Cloudberry. Frontman Matt Pendlebury informs me a new EP is on the way too!
The band rarely play live, so we are thrilled that they will be opening tonight's show. Miss them and you'll regret it.
You May Also Be Interested In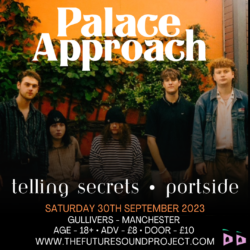 w/ Telling Secrets + Portside
Buy tickets