DHP Family presents PET NEEDS [SOLD OUT]
w/ Bridget.
Please note this is an 18+ event
In 2020, the future for PET NEEDS, as with so many other bands, looked precarious. Now, in 2022, they're poised to take on the world with the release of their second album 'Primetime Entertainment'. It's been one hell of a ride so far.
"We'd been together since 2016, we were having fun with it, a punk band playing punk shows to our friends," says Johnny Marriott, singer, songwriter, guitarist. "At the start of 2020, we didn't know if we were going to carry on as a band. But we thought we'd throw everything at recording an album." The resulting album, 'Fractured Party Music', is that classic debut in that everything up to that point was poured into it. Yet it's still a surprise to hear that thrilling, fan-favourite singles 'Toothpaste' and 'Tracey Emin's Bed' were written just two weeks before recording, showing the creative fire was still fierce.
Whether PET NEEDS (completed by brother George Marriott on guitar, Rich Gutierrez on bass and Jack Lock on drums) were almost done or not didn't matter because they refused to compromise on what turned out to be their saviour, an album brimming with intense resonance. Strewn with social commentary, the frenetic, kerosene-blanched songs flayed modern living, leaving it exposed and fully-examined in catharsis. It hit more than a few searing chords and found its way to the ears of independent label Xtra Mile Recordings who promptly signed the band and released it in the middle of the pandemic in March 2021.
The band's humble nature meant that what came next went beyond all expectations. Starting with a few socially distanced acoustic shows with Frank Turner and other labelmates, it was the most people they'd played to – albeit sitting in painted circles separately – 600 people in a field fit for 10,000.
As shows started to open up again, PET NEEDS embraced life like it was on the verge of ending again. Their headline shows gradually grew in size; they landed support slots with The Hives and Skinny Lister and recorded album number 2 with Frank Turner producing. Further dedicating his unwavering support, Frank then invited the band to join him on his worldwide touring plans that are running throughout 2022. The band dutifully accepted.
The first half of the year has already included the vast European tour taking in Germany, France, Netherlands, Austria and more – winning over rooms of Frank fans everywhere they went. "We want to keep that DIY ethic," says Johnny. "Because these are our first tours, I want to properly live it. I want to understand what we're doing completely, and what everyone else is doing. We've jumped to doing these big tours when we haven't properly toured before, so we've still got to pay our dues, lug our amps and sell our merch." Next up will be joining Frank on his mammoth 50 States in 50 Days tour of the US throughout June and July and then finally across the UK in September and October.
But though the hard work is being done, PET NEEDS are filled with purpose. "We're having the best time. Just being able to wake up and be creative every day is really amazing. Psychologically, I'm in the best place I've ever been in, which is a real blessing."
It's clear on their second album 'Primetime Entertainment' how true that is. Written and recorded in the 11 months after signing with Xtra Mile, their second mirrors Johnny's state of mind, more than even he fathomed at first. "This is a much deeper, personal album. It talks about me being quite self-destructive and recognising where I need to get better in myself. I thought I was writing a record that was about partying and I didn't realise until we sat down and listened to the album from start to finish." It's hard to believe when the songs so deftly deal with fear, fatigue, adrenaline, failing and determination. But the music intuitively responds to the words, every screech, grind and melodic run laced with real-life experience thanks to the band's insightful and instinctive musicality, so perhaps it was this that so floored the songwriter, a vision he hadn't thought he'd had.
'Lost Again' and 'Ibizia in Winter' tackle Johnny's attempts to remain creative, positive and to look after himself. 'Spirals' – their heaviest song so far – spares nothing as he screams: "I can't handle myself, I can't manage this band". 'Tried and Failed' and 'Fear for the Whole Damn World' are almost self-explanatory. Johnny describing the album as "our 'London Calling'" makes sense in that it's flowing with sensation, unexpected textures and features their quietest and noisiest songs so far. It also revels in the maturity of self-analysis.
With all the touring with Frank Turner as well as their first headline tour being booked for later in the year PET NEEDS have formed a natural support system together. "Friendship is the most important thing, being really mindful of each other's mental health." says Johnny. "The thing that connects all of us is passion for creativity, taking risks and being ambitious together. Allowing each other to fail safely is important. We've all taken a massive risk to do this, and every emotion is intensified – understanding each other, that we're all flawed – and that's fine! – you've got to love the music and love each other to survive."
For most, that would be more than enough but goals keep coming. "We're also headlining a 400-capacity venue in our hometown Colchester at Christmas. I moved here 7-8 years ago now. For local bands, if you play Colchester Arts Centre, you've got credibility. I never thought we'd headline that venue and If we can sell it out, that'd be incredible."
Key to all of this is that the band truly seem happy playing shows to tens, hundreds or thousands – one day, Johnny hopes they'll be in a position to choose to do any and all capacity shows just for the love of playing live. "We're in the middle of the storm, so we'll just see what happens. I'm still constantly amazed that we're doing this now. Even if it all ended tomorrow, what a ride." But if it didn't end in 2020, chances are there's plenty more years yet. Tomorrow will be just another extraordinary day.
You May Also Be Interested In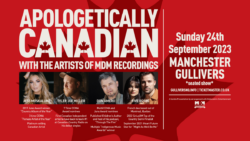 w/ Jess Moskaluke, Tyler Joe Miller, Don Amero, Five Roses
Buy tickets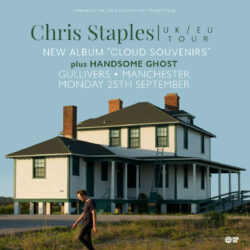 w/ Handsome Ghost
Buy tickets