REVOLUTION IN THE ROUND
Please note this is an 18+ event
#Revolution
It's been a battle call for a while amongst some of the most inspired songwriters currently making the rounds on the fledgling UK Country circuit. It's been a cry against the crippling pop mediocrity of the meat parade award show ceremonies and their hollow victories. It's been a warning to the cronies and the phonies that their plastic rhinestone world is about to crumble.
All the way from the great state of Georgia and now a resident of the UK, Lars Pluto has brought together a group of five amazing songwriters for an evening of songs and stories where the music matters more than the marketing. Ameripolitan alongside Americana. REAL Country, Bluegrass, Honky Tonk, and Rockabilly will all be making an appearance and we can hear that if you dig deep enough in the dirt you'll find a few of the roots of American music spring from these lonely islands in the cold north Atlantic.
Revolution in the Round is a Nashville style songwriter's round in which all the performers are onstage together to go around the stage several times telling stories about their songs and then performing them. It's a format that strips the songs to their very bones and encourages an intimacy between performer and audience. Join us for a night to remember.
Our first round will feature a diverse group of roots musicians pulling from invluences as varied as Western Swing, Americana, and Bluegrass with…
Hannah Johnson, Robbie Cavanagh, and Izzie Walsh
Our second round will be pure Honky Tonk and Outlaw Country Music the way it's meant to be played with…
Ags Connolly, Lars Pluto, and Mark J. Lee
for tickets:
https://larspluto.yapsody.com/event/index/166551/revolution-in-the-round-at-gullivers
You May Also Be Interested In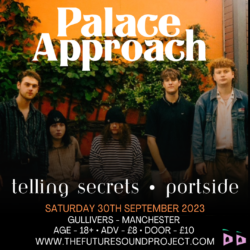 w/ Telling Secrets + Portside
Buy tickets