Red Balloon Music presents Sailing Stones [Cancelled]
Please note this is an 18+ event
Sailing Stones aka Jenny Lindfors' debut album Polymnia (due out Spring 2020) is an honest exploration of learning to break free and let go, existentially. "I really wanted to get into the dark side of what we wrestle with as human beings, and that there is no easy solution," the Bristol-based songwriter says about the process of writing these songs, bookended by the experience of moving to London and eventually leaving it behind.
Although Polymnia comes from a place of melancholy, each song acts as a window into a transient moment of breakthrough and clarity. Lindfors' husky vocals glide over the top of murky, layered synthesisers and softly rolling drums, each melody a guiding light puncturing through dusky fog. On Polymnia, Lindfors allowed her intuition to guide her more acutely: "I stopped caring about things sounding corny, and just went with what felt good," she explains. It's clear that Lindfors' personal but epic songwriting would sit well alongside Marissa Nadler, Weyes Blood and Julia Holter's 'Have You In My Wilderness' in any good record collection. But in comparison to these songwriters, Lindfors' songwriting captures acutely a nocturnal American expanse, and in doing so recalls the ghost of Ry Cooder's Paris, Texas soundtrack that partly inspired her. At times, Polymnia also draws rich textures and production values from the late 1980s FM radio Lindfors listened to as a child.
Opening track 'Free As I'm Gonna Be' is as revelatory sounding as it is hooky, launching the album with strings and choir-like vocal drones. Lyrically, this opener captures well that uncertainty that goes with realising that one is free; the feelings temporariness and the angst that comes with accepting responsibility. Polymnia is beautifully arranged, but Lindfors' lyrics throughout make it far from smooth and it can be at times a deceptively uneasy listen for this reason, her gentle vocals a "dark disguise" for emotionally complex sentiments. For lyrics so personal sounding, Polymnia is heroically restrained.
With its foundations laid in Vale Studios, Polymnia came together with producer and multi-instrumentalist TJ Allen (Bat For Lashes, Laura Groves) on production and bass duties, Dan Moore on keys/ synths (Moog Ensemble, Modulus III, Anna Calvi) and Daisy Palmer (Mesadorm, Goldfrapp, Rae Morris) on drums and drum machines. Later, Jake and Pete from Get The Blessing provided horn parts, and Drew Morgan (Modulus III) arranged strings on several songs.
You May Also Be Interested In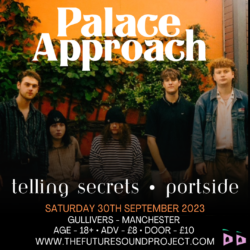 w/ Telling Secrets + Portside
Buy tickets