Scruff of the Neck presents Songs for Walter
With guests Jack Woodward & Rosa
Please note this is an 18+ event
"…songs that you feel have always been with you and remind you of all your favourite memories…life changing" Jacob Graham 'The Drums'
When it comes to family, many of us keep things close to our chests. But rather than keeping his kin hidden in a old dusty photo album, Songs For Walter's Laurie Hulme is more likely to be found making a song about them. In particular his late grandfather Walter. One listen to the Songs For Walter EP and what you'll hear is a stunning memoir of one extraordinary fellow and his strangely wonderful world.
You could call this EP the perfect tribute. Walter was a living, breathing story himself. From his much-loved caravan holidays in Scotland and Wales brilliantly depicted by Ukulele song 'Tin Can', to the bittersweet romance of lead-track 'Meet Me At The Empire' – a tale of Laurie's grandparents' first date to the Empire theatre – each song is like a yellowing polaroid taking you further into another chapter of Walter's life.
But make no mistake; this is not simply a nostalgia trip. Equally inspired by Lou Reed and John Cale's "Songs For Drella" the two releases of the EP is a personal musical anecdote exuding the kind of rawness to only come from a self-produced release. "I really love lo-fi stuff, there's something so much more honest about it," explains Laurie. "What you lose in quality you gain
in character."
And that's what really sets Songs For Walter apart. This EP has bagsof character. Each song stands up on its own but together creates a legacy reflecting a Bill Callahan/Smog-like balance of sincerity and absurdity, The Spinto Band in reflective mode, or perhaps new kid on the blogs, fellow one-man bedroom outfit Youth Lagoon.
After the debut single 'Merry Go Round' released on The Drums' Holiday Records imprint, what's next on the agenda? "Lots more songs… I've got loads of tunes written and half of them recorded," says Laurie. "I've put together a great band and played some exciting shows supporting acts like Big Deal and Cloud Control."
Whatever is around the corner, Songs For Walter reminds us that essentially, life is sweet; but not your bog-standard Werther's Original.
You May Also Be Interested In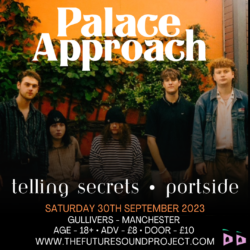 w/ Telling Secrets + Portside
Buy tickets