St. Pineapple
Please note this is an 18+ event
Mango Daiquiris, The Real House Wives of Beverly Hills, Dutch Ovening a loved one, just a few of Australian singer/songwriter, Samuel Cooper's, guilty pleasures. However, one guilty pleasure you won't find on that list is his unbridled love for pop-punk…and horses. But, we'll get to that…
Introducing, St. Pineapple.
Having grown up on Fruit Roll-Ups and Green Day songs, the Sydney born musician knows a thing or two about that sweet spot, where catchy pop melodies collide with upbeat punk rock bangers. A   genre usually defined as; revolving around the same three-chords, with the lyrical content of a shoe. Monsieur Pineapple has made it his life mission to push pop-punk past the point of pigeonhole.
At face value, The Pineapple Saint may appear to be your three-chord slinging 'One Trick Pony',  peroxide blonde spiked hair, tattoos, hot topic-chic garb. However, it's only on closer inspection of the music itself that you find yourself lost in a labyrinth of intrinsic melody, tempo shifts and key changes.
… And St. Pineapple learned from the best.
Growing up in various bands, sharing the stage with genre-giants such as; Fall Out Boy, All Time Low, Sum41, Simple Plan and Avril Lavigne (to name a few). His past works earned #1 chart positions on radio and even an MTV Asia Award nomination.
Now here we are in 2019, and for common folk, the pop-punk genre is right up there with wearing Crocs! Fine for behind closed doors, but should anyone find out about your dirty little secret there'll be  a lynch mob on your tail before you can say "All the Small Things".
Unabashed and waving the pop-punk flag loud and proud, St. Pineapple is all set to deliver eleven Trojan horse-like earworms to your ear-hole's gates. St. Pineapple's 'One Trick Pony' is slated for release May 31st, 2019.
You May Also Be Interested In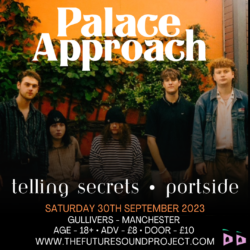 w/ Telling Secrets + Portside
Buy tickets