Tay Temple – 'Painfully Aware' EP Launch Show
w/ Nicha & Katie Elizaa
Please note this is an 18+ event
Manchester based Tay Temple is an alternative folk-rock band, who actively promote self-confidence and self-belief to empower others. Tay is no stranger when it comes to taboo subjects, her second single 'Ladybird' depicts the cruel beauty standards women face. Tay has an emotional, impactful yet a powerful voice, which can be heard in every song. Tay's lyrics are fuelled by her personal struggles, experience of relationships and social consciousness. Partnered with the band, who bring each song to life with their vibrant instrumentation.
At age 16, Tay relocated from Hartlepool to Manchester for university to pursue her music career. Throughout her studies Tay gained experience playing within multiple bands before fully establishing herself and her sound. Now age 21, Tay and her band have gained recognition in Manchester, Liverpool and the North-East.
Tay Temple is set to release her debut EP 'Painfully Aware' on 8th October 2021.
You May Also Be Interested In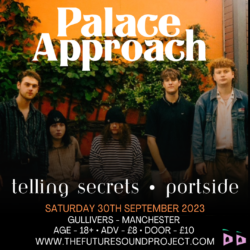 w/ Telling Secrets + Portside
Buy tickets