The Giggle Dungeon
Please note this is an 18+ event
The Giggle Dungeon is coming, Friday 11th March we bring our crew of stand-up comedians to takeover Manchester. After an amazing run at the Edinburgh Fringe Festival the Giggle Dungeon has its sights set. We are coming to plant our flag firmly in Manchester soil. With it being the beginning of this new venture and the start of us creating a following in a new venue we will be putting this show on entirely free. It's a great chance for you to come along and experience what The Giggle Dungeon is all about without it even costing you a penny.
Hosting the show will be The Queen of The Giggle Dungeon, Amy Vreeke! Amy has a wonderfully candid nature and truly nothing is off limits.
Accompanying The Queen will be the best up and coming acts on the manchester circuit including Simon Lomas, Ellen Tomlinson and Stephanie Laing! 
You May Also Be Interested In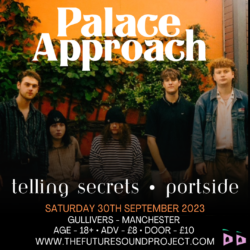 w/ Telling Secrets + Portside
Buy tickets