THE LITTLE UNSAID
With guests
Please note this is an 18+ event
Recent winners of the Steve Reid InNOVAtion Award for boundary-pushing new music creators, The Little Unsaid have spent the last year touring the UK and Europe, leaving audiences emotionally rapt with a live show that's been described as 'a thumping depth of passion, recalling the intensity and melancholic overtones of Nick Cave and Leonard Cohen.'
This year the band released their critically-acclaimed album Imagined Hymns & Chaingang Mantras, recorded with Radiohead engineer and film score producer Graeme Stewart.
With a genre-spanning approach to songwriting that embraces elements of electronica, folk, jazz and alt-rock, the band continue their album launch tour this autumn after sell-out shows in the summer and packed-out performances at Glastonbury Festival.
A chance to see one of the must-see rising live acts of 2017.
Music Genres:
Folk, Indie, Jazz, Rock
You May Also Be Interested In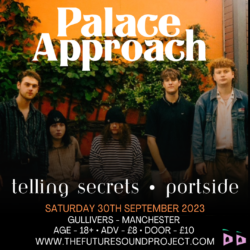 w/ Telling Secrets + Portside
Buy tickets