THE MONOCHROME SET
Please note this is an 18+ event
We are delighted that we have The Monochrome Set back in Manchester.
Featuring original members Bid (Vocals) and Andy Warren (Bass) with Mike Urban pounding the drums and John Paul Moran on keyboards. Formed in 1976 as The B-Sides, with Adam Ant as an original member, the band soon became The Monochrome Set and were heavily influential in the "post punk" scene that evolved after the initial scorched earth of punk.
The band's early releases were on the legendary Rough Trade label before signing with Virgin off shoot Dindisc and have since had a long association with Cherry Red Records. They have been prolific in their recorded output over the years with an album count now into double figures.
The band split in 1985 although they recorded and played live sporadically over the years before reforming as a going concern in 2010. A new album was released in 2012, entitled "Platinum Coils". Since then the band have toured all over Europe, the USA and Japan and released two further albums, "Super Plastic City", in 2013, and "Spaces Everywhere" in 2014. Their latest album, "Cosomonaut", is released on the 9th September.
You May Also Be Interested In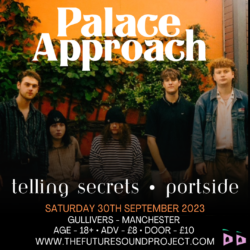 w/ Telling Secrets + Portside
Buy tickets