Tim De Graww and Gina Larner [Postponed]
Please note this is an 18+ event
This is a free show – but we strongly advise booking your place in advance.
Tim De Graaw is a South African born singer-songwriter living in London (UK). Described and compared to the sounds of Tom Petty & The Heartbreakers, Springsteen, Dylan and Clapton. Having studied at Berklee College of Music, he cut his teeth over the past seven years in bands and as a solo act touring the US and Europe. His lyrics are an honest and candid account of his life and experiences as a full-time musician in a digital age constantly in flux.
Tim is currently working on a band project in London with John Porter (The Smiths, B.B. King) and promoting his latest releases 'Amber Light' and 'Magnolia Blue'.
Gina Larner is a singer/songwriter from Brighton, who's original songs are a mixture of beautiful folk with influences of country/pop. Gina's reviews describe the performances as having "bewitching folly tones and weaving an intoxicating spell of guitar…" (SLAP Magazine).
As an established artist, Gina has recently opened for Matt Owens (Noah and the Whale) and is playing multiple festivals this summer, including Wychwood.
Under new management and recording contracts secured, there will be exciting new music being released over the coming months including the christmas single 'Christmas With You' which was released November 2020.
You May Also Be Interested In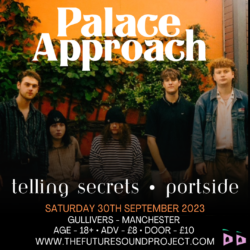 w/ Telling Secrets + Portside
Buy tickets