two blue ticks and one thumbs down
Please note this is an 18+ event
Two Blue Ticks and One Thumbs Down is a one woman show about a married woman who ponders the world of modern dating in comparison to her own love life. Is the grass always greener?
Performed by: Michelle Stoker
Written by Grace O'Leary
Foraois Productions has been producing award winning theatre since 2009.It's debut production 'What Colour Was Her Blood?' was short listed for Best Original New Play by North West Playwrights in the 2009 Not Part Of Festival, where it also won a Forever Manchester award. In 2011, 'Waking Up In the Heetham Tower' received a five star review in the that year's Not Part Of Festival resulting in an award from Large magazine.
You May Also Be Interested In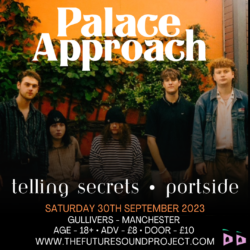 w/ Telling Secrets + Portside
Buy tickets