Under the Bridge presents Andy Oliveri
With guests B-Sydes & Ed Poole
Please note this is an 18+ event
Under The Bridge presents… Andy Oliveri
Andy Oliveri had rarely (if ever) played Manchester before his recent tour with Jim Lockey, which is a crying shame. We've been fans for a while and it was great to have him. It's even better to have him back!
This intimate show also includes brilliant support from UTB favourites B-Sydes and Ed Poole.
Andy Oliveri 
Born out of Cheltenham's thriving folk scene, Andy Oliveri is an atypical solo singer/songwriter. Now recording with his band The Mountaineers, Oliveri's songs explores elements of modern folk but through a college rock/shoegaze prism. His latest album (with The Mountaineers) is a shining example of his talents.
B-Sydes
'If you don't like B-Sydes, you're just wrong' said Gaz Brookfield last time he was in town. Or words to that effect, anyway. Regardless, Gaz is right. Sydes' unique sound and unconventional influences make his brand of modern acoustic music stand out from the crowd.
Ed Poole
Ed Poole's love of 90s bands from the American midwest and their modern contemporaries is clear. Accomplished, relateable songwriting meet sharp, bright, acoustic melodies. What more can you ask for?
You May Also Be Interested In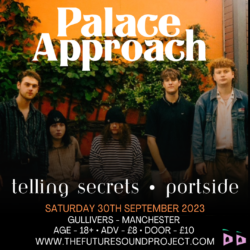 w/ Telling Secrets + Portside
Buy tickets