Under the Bridge presents Trapper Schoepp
Please note this is an 18+ event
Trapper Schoepp was in a dark place.
The Milwaukee-based tunesmith had been on a roll, earning acclaim as one of America's most gifted new singer-songwriters, singled out for his remarkably detailed tales of characters on the fringes of society. His Brendan Benson-produced second album, 2016's RANGERS & VALENTINES, was hailed among that year's finest, declared a "mini masterpiece" by Relix after being named Billboard's "Best of the Week." But by the time 2016 came to its end, Schoepp had split with his longtime partner, been all but forced out of his longtime home and band clubhouse by a new landlord, and worst of all, painfully re-herniated a disc in his back that had plagued him for years.
"And then on top of all that," he says, "We got a new president. That put me into an even darker space."
Heartbroken but unbowed, Schoepp found solace and direction in his music, devoting his substantial energies to crafting what now proves his most emotional and expertly crafted collection of songs thus far.
"Not that I had any doubts about the direction of my life," he says, "but I'm approaching 30 and I'm alone. I'd graduated college, I'd toured the world a few times over, been through a couple of record deals, I'd played shows with some of my idols, put out some records. All of a sudden I wondered, what's next? Where do I go from here? What happens now?
"I came to a bit of a standstill for the first time in my life. And PRIMETIME ILLUSION is what became of that. I was in a rut and these songs were my way of writing myself out. What could be more classic singer-songwriter than that?"
Produced in Milwaukee by Patrick Sansone (Wilco, Robyn Hitchcock), PRIMETIME ILLUSION sees Trapper Schoepp reaching for his own place in the canon with a truly remarkable collection of character-driven songs and stories, a carefully etched series of sonic snapshots in which people we all know struggle to fulfill their own American dream.
Schoepp credits a couple of significant events with getting him out of his ditch and back in the game. He'd told a few friends about his desire to perhaps try working on a baby grand piano, despite his inability to play the instrument. In December 2016, he returned home from another long tour and lo and behold, said friends had arranged for one to be sitting in his living room when he got home. Schoepp spent the next months teaching himself to play the hundred-year-old instrument, writing songs like "Drive Thru Divorce" and "It's Over" using only white keys.
The other thing that happened is Bob Dylan. Growing up in small-town Wisconsin, Schoepp's first love was racing BMX bikes on dirt trails along the Mississippi River. When he herniated a disc in his back, his mother signed him up for guitar lessons. It wasn't quite the same, of course. But then Schoepp heard Dylan's "Hurricane" for the first time.
"It shook my world," he says. "Dylan offered me a radical new lens to see the world through. I still remember sinking into the red checkered couch in my parents' basement and thinking that my life had just taken on a new direction."
In early 2017, the news emerged that way back in 1961, just months after he'd first moved to New York City, Dylan had drafted a song about Schoepp's beloved Wisconsin, imagining a homesick rambler pining for the cheese and beer of his faraway Badger State. More than half a century later, the handwritten lyric sheet was uncovered by a former roommate and put up for auction at $30,000. In Milwaukee, Schoepp saw a photograph of Dylan's handwritten lyrics and decided to set them to music, recording a rollicking version of the song that he titled "On, Wisconsin."
"I just connected with it immediately," he says. "It's so obvious. I knew immediately that I had to finish the song. I just thought, it's got to be done."
Schoepp put the track online and moved on, continuing to work on his own new songs. But a month or two later, a cryptic message pushed "On, Wisconsin" right back to the forefront of his consciousness.
"So I'm laying in bed one night," Schoepp says, "and my manager sends me an email that simply reads, 'Dylan has it now.' I immediately got pretty excited about that."
It seemed Dylan's management team was considering an official co-write credit with intent to publish the song, but it needed a final seal of approval. Eventually, consent was given, bestowing his official imprimatur on the collaboration.
"On, Wisconsin" – which closes PRIMETIME ILLUSION – proved the catalyst for Schoepp to get back on the horse. Publishing a song with Bob Dylan – Bob Dylan! – "put wind in my sails," he says, resulting in a deluge of 40-odd new songs. When time finally came to record, he reached out to Sansone, who he had met earlier that year in Chicago while supporting The Jayhawks. Impressed by the young troubadour's "songs and commitment and enthusiasm," Sansone sorted through the songs Schoepp had written over the past year, whittling it down to an essential 10 tunes. The multi-instrumentalist/producer provided "inspiration and Jedi-like guidance" as he helped push the project to completion. Together, artist and producer built upon Schoepp's efforts at the baby grand by adopting a refined and relaxed approach akin to the classic Laurel Canyon sound of the 70's, all glittering piano, ringing guitars, and crisp vocal harmonies courtesy of Trapper's bassist brother Tanner Schoepp.
"Pat and I were very conscious of not overcooking things," Schoepp says. "Keeping it sparse and letting the songs and the characters who inhabit them speak for themselves."
Indeed, the people who populate PRIMETIME ILLUSION bear the affect of our modern media reality — they stare at screens ("TV Shows"), misconstrue emotions ("Sleight of Hand") and even get lost at sea ("My Comrade"). "If All My Nines Were X's" tells the story of a bowler whose dreams of going pro are never fully realized, while "Drive-Thru Divorce" follows two lovers as they have a haphazard Las Vegas wedding, only to return soon thereafter to annul their vows.
PRIMETIME ILLUSION further sees Schoepp confronting the way we live today head on by touching upon an array of undeniably provocative issues, tackling each with blunt honesty and empathy. "What You Do To Her" – featuring duet vocals from the great Nicole Atkins – recounts a friend's sexual assault and its ripple effects within the community, while a cover of "Freight Train" – originally written and performed by San Francisco alt-rockers Sister Double Happiness – powerfully chronicles the grim realities faced by those suffering with AIDS.
"It's a break-up album," he says. "There's the break up in the traditional sense, but there was also a break-up I was feeling with America at the time."
Sadly, October 2017, saw the death of Tom Petty, another American singer-songwriter with whom Schoepp feels a deep spiritual linkage. An informal wake spontaneously broke out on Schoepp's front porch that night, as friends popped by to share condolences, sing Heartbreakers songs, and reminisce.
"People kept coming over," Schoepp says. "Bringing bottles of whiskey and what-have-you. The next morning, I sat hungover at my kitchen table and wrote 'It's Over' and 'Shakedown,' thinking of Tom Petty's ghost."
Having spent the last half decade "getting home just in time to leave again," playing countless dates and sharing stages with such like-minded Americana mainstays as The Wallflowers, The Jayhawks, and Old 97's, – Schoepp plans to tour especially hard behind PRIMIETIME ILLUSION.
"I love Milwaukee," he says. "This is my home. But us singer-songwriters have to be citizens of the world to make it work."
With its extraordinary melding of the personal and political, PRIMETIME ILLUSION firmly places Trapper Schoepp amongst the long American continuum of singing storytellers, a pedigree and place on the family tree that inspires and drives him each and every new day.
"I think a lot about the folk process," he says, "how things are passed down to the next generation and are reinvented and evolve. That's really important to me, to keep the spirit of what someone might consider old new.
"Dylan, in his MusiCares speech a few years ago, made the point that his role in music is simply extending the line. That's my whole M.O. as well. I want to push this music forward like my life depends on it. It's all I have."
You May Also Be Interested In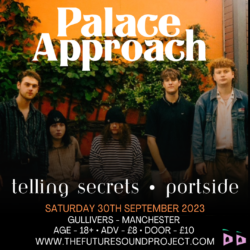 w/ Telling Secrets + Portside
Buy tickets