Urban Hymns: Essa Weira + Guests
Please note this is an 18+ event
Essa Weira – Stringing together influences from across the electronic genre, the London/Manchester-based artist, Caz Bowyer, creates a unique and personal sound. With sonic elements from ambient, glitch and downtempo, his tracks contain an elegant blend of harmonious synths, intricate samples and soothing vocals. Dancing between instruments on stage, marking his debut headline show, it will be hard not to move your feet to this upbeat live performance.
Kintsuku – Kintsuku, the solo project of Ellie Jones, mixes a delicate combination of light and shade; seismic, hard hitting percussion and delicate vocals that takes listeners on a emotive, hypnotic journey. Her raw lyrics, accompanied by dreamy instrumental backing, paint vivid pictures and leave touching narratives upon the listener. Prepare to be blown away by Kintsuku's mesmerising live performance.
TOUCHLIGHT – An up and coming production duo based in Manchester. They draw from many elements of night-time oriented genres of electronic music such as house, garage, techno and drum and bass. They incorporate a sense of authenticity with many live instruments and vocals living up to their hip hop and jazz influences. Get ready to witness an incredibly unique set from TOUCHLIGHT.
You May Also Be Interested In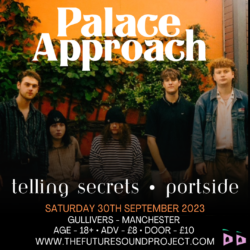 w/ Telling Secrets + Portside
Buy tickets