Ventenner
w/ Zola
Please note this is an 18+ event
"Ventenner's album has brought back to metal and alternative music something it's been missing for the best part of a decade." – 11 is louder than 10
" Haunting, menacing and explosive" – Metal Hammer
" Ventenner are stepping up to reclaim industrial rock for the UK." – IVM
"This British band could quite easily give Trent Reznor a run for his money" – Retrograde Inversion
For fans of: Nine Inch Nails, Deftones, Filter, Marilyn Manson, Korn, Tool, Alice In Chains, Massive Attack, Stabbing Westward.
Formed in London, Ventenner is an alternative rock hybrid blending metal, atmospheric electronics and doomy riffs. Although starting as a solo project in the industrial scene, Ventenner has grown and evolved to occupy a genre all of its own.
Their debut album 'This Is The Reason' was released in 2012. A blend of industrial rock and electronica, it paved the way for Ventenner's entry into the London scene, gaining a following and opening for industrial bands from around the world. 2014's 'Distorture' showed Ventenner exploring a much darker sound. A sprawling, immersive and much darker album, it was the foot in the door to the industry that Ventenner aimed for, landing larger shows, label interest and raising their profile in the scene.
'Invidia', released in 2017, presented a much heavier and more visceral guitar focussed sound, influenced by their time spent on the live scene and touring. 'Invidia' was critically acclaimed across the board, but followed up almost immediately with their 2018 releases of a B-sides compilation 'Fragments', two singles 'Ataxia' and 'Killing Jar' and an EP, touring extensively promoting the material throughout the following year.
Ventenner have been praised in the press as reclaiming industrial rock for the UK and a serious contender for breaking into the mainstream scene. Their later releases, 'Hollow Storm' and 'Parasight' again pushed them even further into their own realm, fusing metal, alternative rock, grunge and doom, all underpinned with atmospheric electronics and textures. Showcasing a more restrained sound and a vastly different structural approach to songwriting.
Their latest release 'Signal Collapse' is their first album since 2012 with a more efficient stripped back line up. Sonically, it is paving the way for a more direct and mature sound and a sense of things to come.
As a band, Ventenner covers a broad spectrum, both in their sound and their work. A solid and varied discography, intense live shows and a collection of work including remixes, tv and film and collaborations.
Ventenner have toured and played with: KMFDM, Skinny Puppy, 3TEETH, The Young Gods, White Ring, Revolting Cocks, Author & Punisher, Mortiis, Orgy and more.
You May Also Be Interested In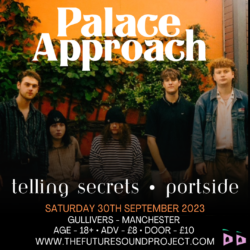 w/ Telling Secrets + Portside
Buy tickets