Scruff of the Neck presents Voodoo Bandits
w/ Baltikk, Bayboards + Spangled
Please note this is an 18+ event
Voodoo Bandits are a 4-piece indie rock/surf pop band from the Isle of Man; where there is orange sheep, cats with no tails, and the biggest waterwheel in the world!
Their sound is upbeat and energetic, blending their influencing genres together to carve out their own vibrant, full of life sound. Big choruses, surfing guitars, and tight grooves developing into washy soundscapes.
Voodoo Bandits released their debut single 'Sink Below' in March 2019, a fresh and catchy tune, using big dipping reverbs and tight overdriven riffs with an indie surf soundscape to end on. Voodoo Bandits's 2nd single 'Ride the Wave' followed this, electrifying their current sound, going faster and larger with a hint of fuzz.
The band have played up and down the Isle of Man at festivals, bars, event and venues. The band is currently leaping across the Irish sea to the UK mainland to spread their fresh take on surfy guitar pop to everyone's ears!
You May Also Be Interested In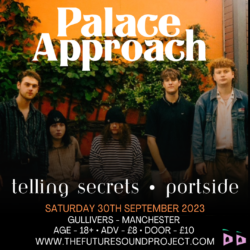 w/ Telling Secrets + Portside
Buy tickets