WEIRDS
Please note this is an 18+ event
MISSION MARS PRESENTS BY ARRANGEMENT WITH THE INDUSTRY GROUP
"Like a vulture ravaging a corpse" – Paul Smith, NME "A deranged take to sludgy, in-your-face noise" – DIY "Their no-frills sound has both an immediacy and a certain mysticism" – The Skinny
Step into the kaleidoscopic world of WEIRDS , and you'll be engulfed in a glorious, sonically technicoloured smog. After honing their craft over several years on the Leeds circuit, the band are now armed with colossal debut album SWARMCULTURE set for release 12th May on Alcopop! Records. The record establishes WEIRDS trademark sound as one that features lush, viscous layers that you can almost feel and taste, intricately positioned to create an escapist and mesmerising experience. WEIRDS recently revealed Valley Of Vision, the first single from SWARMCULTURE , in the form of a spectacularly cinematic and eerie music video. Perking up the ears of Huw Stephens, the track has gone on to receive spins from BBC Radio 1.
Recorded with Matt Peel (Pulled Apart By Horses, Eagulls) at The Nave, an atmospheric Leeds studio built into a converted church, WEIRDS set out to create a dark, heavy, psychedelic record which still had the pop structure and hooks to make people dance. Following on from 2016s Weird Sun EP, the band intentionally wanted to create light at the end of the sonic tunnel with SWARMCULTURE to provide a sense of relief from the lyrically brutal narrative. The studio location was significant in coining the album title, derived after bassist Matthew Vaughan had observed a flock of starlings in the courtyard, triggering a trail of thought on colonial behaviour and how is transcends to multiple species – including humankind.
"It was a very conscious decision to combine the two words to create 'Swarmculture'. It just seemed to encapsulate the world we wanted to create with this record. With the fact that Western culture is swarming towards a populist right, with people blaming others for parts of their lives that they're not happy with, calling for change before they even begin to think about whether the change will be good or not, we felt 'Swarmculture' reflected the world we live in. Everything swarms, whether it be a colony of ants or the corporate conglomerates. We definitely, and will continue to, try to keep music and politics separate but as any type of artist, you are definitely inspired and influenced by what is going on around you" – Aidan Razzall, Vocals
The album artwork for SWARMCULTURE features a striking mirrored image of a Costa Rican Palm Viper snake, belonging to VICE documentary subject Steve Ludwin who gained notoriety by injecting lethal doses of snake venom for a natural high and to boost immunity.
A testament to DIY music, WEIRDS are a creative force that reaches beyond the music – from their hand printed zines to curating line-ups and promoting shows in Leeds. With unrelenting, full-throttled live shows at their core, 2017 will see the band push each performance to its limit with a short UK headline run in March, including a three-night free show London residency, followed by their support to The Wytches in April. Summer will see the band land at Camden Rocks and 2000 Trees, with further festivals to be confirmed soon. With a spectacular debut release and live dates fuelling the volcanic foundation needed to hatch, WEIRDS are hungrier than ever and ready to infest the UK.
You May Also Be Interested In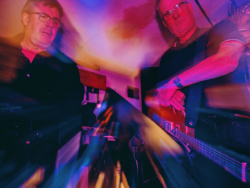 w/ Dark Fidelity Hi Fi + Mindcrime Cafe
Buy tickets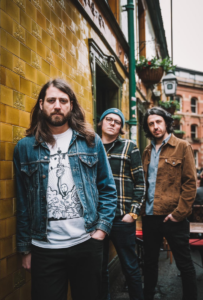 w/ The Be Positives + Springfield Elementary
Buy tickets