Bedlam Bookings presents Witterquick [Cancelled]
Please note this is an 18+ event
Over the last year, rock newcomers WITTERQUICK have quickly emerged as one of the UK's hottest new bands following the popular release of singles 'Soldiers', 'Fade Out', and 'Rise', a sold out UK tour with fellow rockers Nothing But Thieves, and piquing with their debut EP 'Beneath the Spinning Lights', which saw them attain UK chart success (alt chart #9, album chart #35), TV, and major radio play.
"Their rousing brand of pop-rock rivals any of their more experienced UK counterparts…crammed with the sort of dreamy, melodic anthems you'd expect from a band much further into their career" – Kerrang! Magazine
WITTERQUICK began at the end of 2014 in a back bedroom of Ollie's house in Exeter. Will, Ollie, and Ben, wrote for the sake of writing music, honestly, with no aims other than to write good music. After spending a while writing a collection of songs they loved, they decided to form a band and set out armed with a disc of home demos.
They reached out to world renowned producer Romesh Dodangoda (Bring Me The Horizon, Twin Atlantic, Lower Than Atlantis) who agreed to work with them after hearing their demos. Ollie says that working with Romesh was a huge step for them, and they didn't take it lightly, "We got a call back from Romesh saying that he'd love to work with us, that was one of the first moments when we thought ok…this is getting serious." The outcome of this was the 5-track EP 'Beneath the Spinning Lights', which was mastered by Alex Wharton at the legendary Abbey Road Studios.
After playing with Nothing But Thieves a few times in early 2015, they were asked to join them on the 'Ban All the Music Tour' across the UK. This coincided with the release of 'Soldiers', their first official release. "We put out 'Soldiers' while on the road, and we were blown away with the response from fans" recalls Ollie "every night more and more people were singing along, it was insane."
The tour amassed faithful fans everywhere they went, as well as some places they hadn't yet visited (namely the birth of the WITTERQUICK Italia fan club from Italy, who call themselves the QUICK ARMY).
Witterquick set the stage alight with their electrifying live set at The Electric Ballroom! – Fortitude Magazine
With support from fans in the media (song of the week titles from Kerrang! and BBC Introducing, plays from Kerrang's/Virgin's Kate Lawler and Alex Baker, and Radio 1's Huw Stephens, as well as artist of the week in Kerrang! Magazine and TV) and two further released singles ('Fade Out' – March 2016, and 'Rise' – June 2016) WITTERQUICK gained label interest and signed to LAB Records to release their debut EP 'Beneath the Spinning Lights'.
Their debut EP 'Beneath the Spinning Lights' (featuring cover model Samantha Ravndahl) was released on 17 June following the leading single 'Rise', and entered the official iTunes album chart at No. 35, and the alternative iTunes album chart at No. 9.
WITTERQUICK's sound combines the intensity of punk-rock and the feel of the 70's and 80's stadium greats, with the melody of a pop band.
You May Also Be Interested In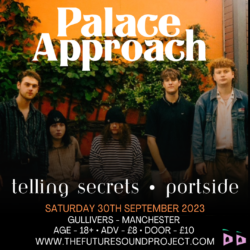 w/ Telling Secrets + Portside
Buy tickets