Women in Comedy Festival
Please note this is an 18+ event
Katie Pritchard : Hurricane Katie

Katie Pritchard specialises in all things comedy carnage. Come along and enjoy some sublime craziness, all in the name of fun. Performing in her unique Alternative Musical Stand-Up style expect Characters, shiny costumes, sweets, parodies and original songs on her Ukulele called George. She is also very proficient at impersonations of inanimate objects, and is a professional Kazoo player. It's going to be one big magical mystery tour around the inner workings of her brain. Who knows what could happen?

"Sometimes surreal, often unusually perceptive, but always original and entertaining" ★★★★ (Female Arts Magazine)

Gulliver's Lounge, 109 Oldham St, Manchester M4 1LW

Doors 19:45 Show 20:00-21:00

Pay what you Like RESERVE SEATS FOR THIS SHOW

Stephanie Laing: Mad About the Boy

Stephanie Laing talks about mental health problems and boys for an hour, but it's totally funny I promise and won't be as awkward as you think it will.  From a very late start (she barely even met a boy till she was 17), through her "Well I know boys now so I'd better touch as many as possible" phase, and a number of failed relationships, Stephanie tells us about what it's like to try to have meaningful and not so meaningful relationships when you're a bit of a nutcase.

Leicester Mercury Comedian of the Year Finalist 2015

"Eye wateringly honest… a jovial, baby faced performer [with] devastating technique.  Laing has a Sarah Millican-esque appeal" (Chortle)

"Gloriously silly… wonderfully unpretentious" (Broadway Baby)

Gulliver's Lounge, 109 Oldham St, Manchester M4 1LW

Doors 21:15 | Show 21:30-22:30

Pay what you Like RESERVE SEATS FOR THIS SHOW

You May Also Be Interested In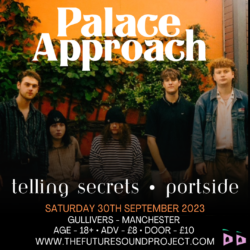 w/ Telling Secrets + Portside
Buy tickets