Women in Comedy Festival
Please note this is an 18+ event
Deb Gatesby : A Place Called Happiness

Debs spent a year thinking about happiness. It brought her down. Travelling out into the world, she documented her experiences, and tells us what she found in this comedic and uplifting new solo show from the acclaimed creator of 'Hi, Anxiety'.

A Place Called Happiness' was a year in the making and is Debs' response to society's seeming obsession with happiness. Debs began an experiment to discover the secrets of 'How to be Happy' and found herself drowning in a sea of self-help – and it wasn't helping.

She needed to drag herself off the sofa of apathy so started to say yes to things, anything, to get her out into the world – dots on the globe, unknown and unsystematic choices. The situations she found herself in challenged her thoughts on happiness and ultimately gave her hope.

'A Place Called Happiness' is an honest and real, funny and engaging show filled with stories and secrets shared, as Debs takes you on her journey off the sofa into the world in the pursuit of something called happiness.

'Debs Gatenby pulls of the difficult trick of reducing you to tears of both hilarity and sadness, sometimes within a few lines. Her profoundly personal insights reveal a truth which is universal, resonating with anyone who has ever looked in a mirror and wondered what the hell is going on inside that person. Consequently, her life-laid-bare monologues, whilst telling us much about her, reveal something about us, too." Time Out
Gulliver's Lounge, 109 Oldham St, Manchester M4 1LW

Doors 20:00 Show 20:30-22:00

Advance tickets £5 or £7 on the door BUY TICKETS

Allyson June Smith: A Work in Progress… Just Like Life

Since 2000, Allyson June Smith has been tickling Canada's comedy scene from the moment she put down the chalk brush and picked up a mic. Playing to packed rooms has become like another day in the classroom for this former school teacher.

Her credits include her own hour long Comedy Now special, appearances on CBC Radio's hit show The Debaters, and the Winnipeg, Halifax and Just For Laughs Festivals, to name just a few. A multiple Canadian Comedy Award nominee for Best Female Stand-Up, she performs for audiences ranging from corporations to the most rural of gatherings. Whether she was the emcee, support, or headliner, she's delighted them all.

After working her way across Canada, Allyson now has taken her craft to the UK. Using her sassy blend of in-your-face stand-up and hilariously insightful commentary, she now works for major UK promoters and comedy clubs.

It is her genuine and unique sense of humor, combined with excellent performance timing, that has made audiences laugh. This teacher-come-comic is ready to show international audiences why she is a sought-after fan favourite.

Gulliver's Lounge, 109 Oldham St, Manchester M4 1LW

Doors 19:45 Show 20:00-21:00

Advance tickets £3 or £5 on the door BUY TICKETS

Jane Postlethwaite : Made in Cumbria

Jane Postlethwaite is bringing her sell out and award nominated solo show, Made in Cumbria to the Women in Comedy Festival where she will introduce you to a selection of dark female characters who will welcome you into their unique world. Jane Postlethwaite is a Funny Women Finalist 2015 and Brighton
Comedy Festival Squawker Award Finalist 2015. The show was also nominated for Best Comedy and Audience Choice Awards in the Brighton Fringe 2016.
Gulliver's Lounge, 109 Oldham St, Manchester M4 1LW

Doors 21.15pm Show 21.30-22.30pm

You May Also Be Interested In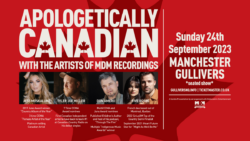 w/ Jess Moskaluke, Tyler Joe Miller, Don Amero, Five Roses
Buy tickets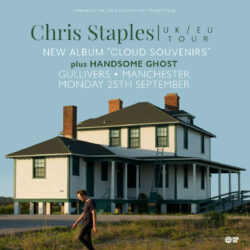 w/ Handsome Ghost
Buy tickets