Wordlife Anthology Launch – Manchester – ft. Thick Richard, Helen Mort & More
Please note this is an 18+ event
WordLife 10th Birthday Anthology Launch
15th September, Gullivers Bar, Manchester, 7:30pm.
PAY WHAT YOU CAN
Word Life is one of the leading literature organisations in the country. Over the last ten years its been dedicated to showcasing original work to new audiences through a diverse programme of events, projects and publications.It runs the creative writing section in both Now Then Manchester and Sheffield – the Manchester edition launched four years ago and its editor Elspeth Vischer welcomes poetry and short story submissions to monthly themes. To celebrate reaching 10 years we've published an anthology of the best writers we've worked with over the years. The book includes the winners of prestigious literary prizes such as Helen Mort and Andrew McMillan alongside International Slam winner Buddy Wakefield and spoken word viral sensation Hollie McNish. Word Life launch their new anthology in Manchester with readings from writers in the anthology.
Thick Richard
Writer and punk poet Thick Richard brings us deep and meaningful tales ranging from Stockport and its evolutionary horrors to philosophical ponderings on the nature of a fried breakfast. Thick Richard is a master of fast-paced monologues and metaphors that can have audiences blushing and laughing out loud at the same time.
Helen Mort
Helen Mort was born in Sheffield. Her first collection 'Division Street' was shortlisted for the Costa Prize and the T.S. Eliot Prize and, in 2014, won the Fenton Aldeburgh Prize. Her most recent collection 'No Map Could Show Them' has just been released and is a Poetry Book Society Recommendation.
Gav Roberts
Gav Roberts is a force of nature and one of the best loved poets in South Yorkshire. You can usually find Gav armed with a flatcap, a bottle of wine and a notebook full of poems that could turn the meanest hearted, most sceptical fans of poetry into believers. His poems are at home with you in the kitchen dancing or on the protest line outside city hall.
'Impossible to dislike' – Write Out Loud
Gevi Carver
Genevieve Carver has been delighting audiences in Sheffield since 2011 with her straight-talking, gin-fuelled spoken word routine. Past appearances have included the Edinburgh Fringe and Shambala music festival, and her written work has appeared in Iota, Envoi, Now Then and The North magazines. She was a semi-finalist in the Hammer & Tongue UK National Poetry Slam 2016 and is currently a poet in residence at Bank Street Arts.
Joe Kriss
Joe Kriss is a poet based in Sheffield and the founder of WordLife. He has been published in numerous anthologies and magazines and performed at spoken word nights across the country. He has performed at venues such as the Tate Modern, The Roundhouse, National Media Museum and major festivals such as Shambala and BoomTown Festival alongside artists such as Kate Tempest, Buddy Wakefield and Laura Marling.
Elspeth Vischer
Elspeth Vischer is a poet from Belfast who studied in Bristol before venturing north again to reside in Manchester. Having been writing for Now Then among other publications over the last two years, she seeks to bring people together in questioning the absurdity of the everyday through her work.
Also Featuring shorter readings from:
Ralph Dartford
Jackie Hagan
Stephen Scott
You May Also Be Interested In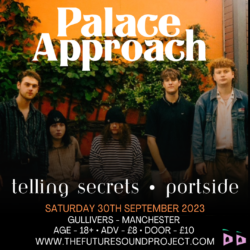 w/ Telling Secrets + Portside
Buy tickets